Product Description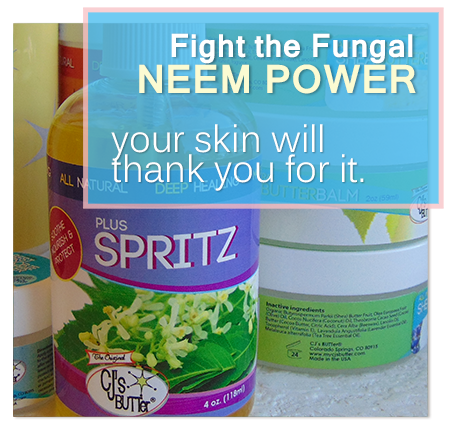 Please see our Amazon Prime listing (link below) to purchase if we are out of stock.
~CJ and the CJ's BUTTer family
PLUS Spritz has all the benefits of CJ's Original BUTTer® Spritz, plus ingredients that treat fungal skin problems naturally.
This liquid formula of CJ's BUTTer® is loved as a spray application rash treatment that is exceptionally useful for sensitive to the touch rashes or quick application and can double as a wipes solution! The neem oil and sesame oil in CJ's BUTTer® PLUS Spritz make it especially effective when diaper rashes and skin irritations are yeast based thanks to the anti-fungal properties of both oils!
Scent: There just something about PLUS and the way it smells. There are some that like the smell and there are some that are indifferent to it. Whatever end of the spectrum they are on, however, it is the effectiveness of PLUS and what it does that causes people to fall in love with it!
Try it on:
Yeast Rash
Thrush
Cradle Cap
Athlete's Foot
Yeast Based Eczema
Psoriasis
and more!
*Note* Special note to customers - packing may be different than normal due to supply demands
Package Description: New 4 oz. spray bottle fits easily in any compartment intended for a small baby bottle!
Uses: Moisturizing spray for skin or hair. Directions: Spray directly on skin or into palm of hand to work through hair. Warnings: For external use only. When using this product avoid contact with eyes. Contains: Nuts (Coconut Oil) and Soy (Tocopherols) *These statements have not been evaluated by the Food and Drug Administration. This product is not intended to treat, cure, diagnose or mitigate the symptoms of any disease.
Ingredients: Cocos Nucifera (Coconut) Oil, Sesamum Indicum (Sesame) Seed Oil, Olea Europaea Fruit (Olive) Oil, Ricinus Communis Seed (Castor) Oil, Melia Azadirachta (Neem) Seed Oil, Tocopherol (Vitamin E)**. **derived from soy
Product Reviews
Write Review
Not the same as it was 5 years ago

Posted by Jess on Jul 25th 2023

I've used this wonderful spray for 8 years. We recently had our third babe so I bought a new bottle and it is not as stinky as it used to be. I'm worried it isn't as potent anymore. I loved this stuff for preventing diaper rash, so I hope it still works even without the strong neem smell!

CJ's Butter Is The Best

Posted by Roselynn D. Casey on Jun 3rd 2023

I started using CJ's Butter, after attending "The Great American Diaper Changing Genesis world book of records challenge" in Colorado Springs, Colorado, in 2014. I won some by correctly guessing the correct scent of "MonkeyButt.". I have been to the Store and have also ordered on-line for myself and others. This is absolutely the best product, that anyone has ever created and produced for diaper rash! I have used several of their products. I absolutely love CJ's Butter, because it is the best!

So convenient

Posted by Krista on Sep 18th 2018

Tried the spritz PLUS for anti-fungal properties of neem and sesame oil. Spritz it on my baby girl's bottom for quick diaper changes and to avoid candida overgrowth. Great Stuff!!

The best cure!!

Posted by Amy Lawson on Aug 24th 2018

While I love the regular CJ's butter, the plus formula is awesome for those extra tough rashes. I keep a spray of this handy just for those rashes that tend to come with extra fun poopy diapers! My kid has a reaction to tomatoes coming out and grandma keeps giving them to her. Anyhow though, I can get her little rump cleared up usually in under 24 hours with this awesome stuff! I've also recommended this to friends in the past and they've loved it. One little baby had a nasty case of eczema that this stuff cleared right up!!
Thanks for making a great product!

PLUS has it covered!

Posted by Sheena Holder on Jan 16th 2018

We've been loyal PLUS users for 4 years now, and it's still the only product I'll trust to keep my little one's skin issues at bay. Dad and I have even started using it for ourselves! It's my go-to gift for baby showers, and the first thing I recommend to all new moms.

Amazing product

Posted by Unknown on Mar 27th 2017

We are going on a camping/sporting event weekend and decided to bring this spray. Being unscented means we won't attract bugs and the plus formula means we can fight anything nature throws our way from athletes foot, ringworm, chaffing, diaper bottom, cradle cap, to worn dry hands, flyaway hair, and this momma even puts it on cleaned booboos because it's amazing at helping the skin heal itself.

Life-Saver for for yeast

Posted by Brigid on Jul 3rd 2016

Okay, it DOES smell a little funky, but it TOTALLY works, so I don't even care.
I cloth diaper and was already a fan of CJ's as a moisturizer and CD safe diaper cream. My son and my best friends daughter got yeasty diaper rashes at almost the exact same time. My friend uses disposables and went with the hardcore medicated Desitin. I stuck with my CD (sanitizing as I went) and this spray. I know everyone reacts differently, but using just this spray he started clearing up almost immediately. The rash stayed completely within control and went away within a few days (I used it on his back and belly too, to prevent spread). My friend struggled with her Desitin for much longer and her daughter ended up with a cracking rash that persisted in her butt crack for almost a full week after my guy cleared up. I think it helped a lot that I could use this spray on any/all of his skin without making a mess, whereas the Desitin had to be confined to below the diaper line so it wouldn't ruin any clothing. Also, you can spray it on if the area is especially tender, and you don't have to rub anything in.
As I said, it definitely has some funk in the smell, but nothing too overwhelming or bad. By the time he had cleared up I was kind of used to the smell and didn't dislike it as much. Regardless of the smell, it WORKS and works FAST and EFFECTIVELY. I have a bottle "on deck" now in case I see anything that even remotely resembles a rash and thankfully we haven't had any issues since.
Find Similar Products by Category
Customers also viewed