CJ's BUTTer Spritz: Unscented
CJ's BUTTer Spritz: Unscented
Product Description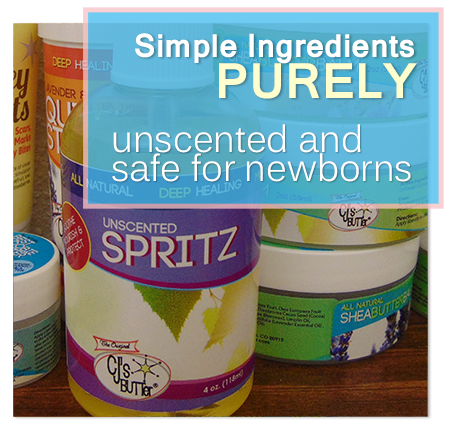 Please see our Amazon Prime listings to purchase if we are out of stock.
~CJ and the CJ's BUTTer family
Our liquid formula of CJ's BUTTer® is loved as a spray application rash treatment that is exceptionally useful for sensitive to the touch rashes or quick application and can double as a wipes solution! This spray on moisturizer also works wonders as a bath oil, baby oil, massage oil that is safe for all ages, leave-in conditioner, hair detangler, curl definer, make-up remover, adhesive remover - no more struggle to remove sticky bandage goo and so much more!
Scent: Free of any scent additives Unscented Spritz is a 100% Natural moisturizer perfect for infants and anyone else with extremely sensitive skin.
*Note* Special note to customers - packing may be different than normal due to supply demands
Package Description: New 4 oz. spray bottle fits easily in any compartment intended for a small baby bottle!
Uses: Moisturizing spray for skin or hair. Directions: Spray directly on skin or into palm of hand to work through hair. Warnings: For external use only. When using this product avoid contact with eyes. Contains: Nuts (Coconut Oil) and Soy (Tocopherols) *These statements have not been evaluated by the Food and Drug Administration. This product is not intended to treat, cure, diagnose or mitigate the symptoms of any disease.
Ingredients: Cocos Nucifera (Coconut) Oil, Olea Europaea Fruit (Olive) Oil, Ricinus Communis Seed (Castor) Oil, Tocopherol (Vitamin E)** **derived from soy
Product Reviews
Write Review
Love it!!!

Posted by Unknown on Nov 16th 2022

We love the unscented spritz! Baby has never had a rash using this!

Super moisturizing

Posted by Tatiana Barajas on Jun 23rd 2022

I use this on my baby with her cloth diapers with every change. She has never gotten a diaper rash thanks to this spray. Also love that it's not messy and super easy to just spray at every diaper change!

Miracle for Radiation Burns!

Posted by Karen on Jul 11th 2018

This summer, I am going thru grueling radiation therapy for vulvar cancer. I cannot begin to describe the horrific side effects to the most sensitive part of a woman's body. It has left me unable to walk, housebound for weeks, "living" in bed looped up on pain meds. My sweet DIL brought me this spray 3 days ago and it has changed my life! None of the rx creams & ointments did a thing for healing AND were impossible to apply since everything down there is too swollen & painful for me to even touch, much less rub a cream into. The spray idea is GENIUS! My skin is healing so fast - I can walk again without looking like an ogre, NO MORE pain meds, and am so thankful for this product. I shared it with my radiation oncologist today and everyone on my Vulvar-VIN Cancer Facebook group. The treatments for gynecological cancers are medieval, debilitating, disfiguring, and deeply traumatic. This spray has brought me more relief than any prescription or homeopathic remedy - and I've tried damn near all of them, I believe. Thank you so much. I wish I could hug someone but please know that your product brought healing, relief, and hope to me and I will be forever grateful <3

amazing

Posted by Unknown on May 5th 2017

This product delivers! I was worried the unscented would have that typical "unscented smell" but it doesnt! It moisturizes without being icky! I love it.

Love CJ's BUTTer

Posted by Deb L. on Aug 15th 2016

I've been using CJ's for years as my moisturizer after I used it on my grandson's diaper rash. Love, love, love it.

LOVE this product!

Posted by Elizabeth M on Dec 16th 2015

This stuff is like magic! It clears up any rash within a day and works much better than desitin (which actually made my daughter's rash worse). I love the spray so it doesn't get all over my hands. The daycare loves it too. And it's great that it's safe to use with cloth diapers. I've had no buildup on my diapers from it at all. I highly recommend this stuff!

Quick and easy for diaper changes!

Posted by Jennifer H on Nov 5th 2015

I love the spritz for keeping my baby's bum moisturized and helping to prevent diaper rash. I started using CJ's because I use cloth diapers at home and needed a product that would work well and not destroy my diapers. It works great and now I use it with disposables when we are out town as well. The spritz, compared to the balm, is super quick and easy to use for diaper changes, especially when you are out and about. It seems a little pricey per bottle, but 1 bottle lasts a long time - a little goes a long way! I do prefer the dark, flatter bottle rather than the newer bottles, as it fits better in my diaper bag. Great product!
Find Similar Products by Category
Customers also viewed