CJ's BUTTer Spritz: Warm Vanilla Cake
CJ's BUTTer Spritz: Warm Vanilla Cake
Product Description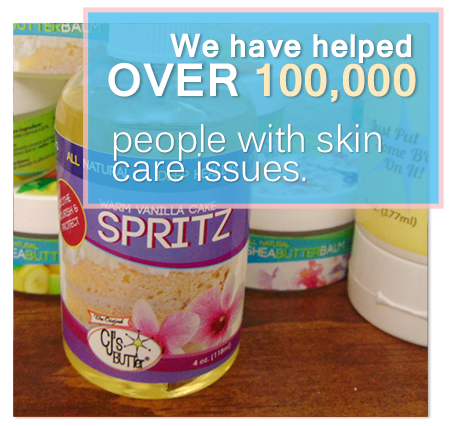 Please see our Amazon Prime listings to purchase if we are out of stock.
~CJ and the CJ's BUTTer family
Warm Vanilla Cake Spritz on Amazon
Our liquid formula of CJ's BUTTer® is loved as a spray application rash treatment that is exceptionally useful for sensitive to the touch rashes or quick application and can double as a wipes solution! This spray on moisturizer also works wonders as a bath oil, baby oil, massage oil that is safe for all ages, leave-in conditioner, hair detangler, curl definer, make-up remover, adhesive remover - no more struggle to remove sticky bandage goo and so much more!
Scent: The smell of cake...warm, delicious, comforting...is captured in this scent!
*Note* Special note to customers - packing may be different than normal due to supply demands
Package Description: New 4 oz. spray bottle fits easily in any compartment intended for a small baby bottle!
Uses: Moisturizing spray for skin or hair. Directions: Spray directly on skin or into palm of hand to work through hair. Warnings: For external use only. When using this product avoid contact with eyes. Contains: Nuts (Coconut Oil) and Soy (Tocopherols) *These statements have not been evaluated by the Food and Drug Administration. This product is not intended to treat, cure, diagnose or mitigate the symptoms of any disease.
Ingredients: Cocos Nucifera (Coconut) Oil, Olea Europaea Fruit (Olive) Oil, Ricinus Communis Seed (Castor) Oil, Tocopherol (Vitamin E)**, Parfume (Fragrance). **derived from soy
Product Reviews
Write Review
There's no better product...trust me!

Posted by Amanda on Sep 27th 2021

As a mom of a child with incredibly sensitive skin, she had a diaper rash constantly and they took forever to go away. The "normal" diaper rash creams or barriers did nothing to heal it, so she was sore constantly. I purchased CJs Butter 10 years ago for my twins when I cloth-diapered them, but I couldn't remember the name of this product for this baby cause it had been so long. I finally found it and it's been a lifesaver again! Please don't waste your time with other products like I did, just buy it. There shipping was super fast and they even wrote a little note on my receipt. Love them!

Must have!

Posted by Rachel H. on May 30th 2019

This is a must have for anyone with a busy baby! So easy to get on. Your hands don't get dirty. Plus it smells wonderful! This product is amazing and always helps if my little one shows any signs of a rash starting.

Oh my sweet baby!

Posted by Mariah Jarvis on May 10th 2019

Love this scent! We use the spritz after each change! It helps keep his skin from getting irritated between diaper changes! ❤️

SMELLS LIKE CAKE!

Posted by Unknown on Jan 23rd 2017

the smell is amazing. I use it on my daughter when she has a bad diaper irritation and after an hour the rash is GONE.

Great Product

Posted by Unknown on Jan 25th 2016

My daughter has a tendency to get skin irritations especially in her diaper area. A friend of mine had your spritz on hand and let me use a bit. After one use there was a noticeable difference. She had the Monkey Farts fragrance it smelled so good I couldn't wait to try more. I chose the cake fragrance and am a bit disappointed that it isn't as strong a scent, but the product is still AMAZING.

Awesome for BAD rash

Posted by Glitterjen on Dec 21st 2015

I have used the spray version for SEVERE rash (when the poor baby screams when you have to wipe them :( ) and it is awesome for the late night newborn changes when you want to get something on but don't want to turn on all the lights . . . just a few sprays to cover the bum.

I am purchasing a new bottle to use on not only the baby but I have "chicken skin" arms = keratosis pilaris which a more oily lotion works better on my arms.

Best diapering accessory

Posted by Smoorefr on Dec 16th 2015

It would be hard to overstate how much I love this spray. My son has never had diaper rash in the seven months that I have used it, and is smells fantastic. Sitters and grandparents love it, because dirtying hands is not necessary. Also, a bottle lasts for at least three months.
Find Similar Products by Category
Customers also viewed