CJ's BUTTer Spritz: Monkey Farts
CJ's BUTTer Spritz: Monkey Farts
Product Description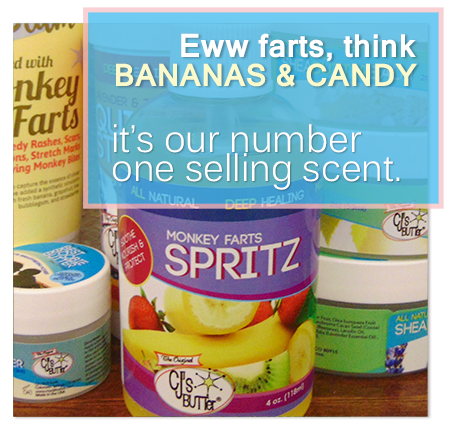 Please see our Amazon Prime listings to purchase if we are out of stock.
~CJ and the CJ's BUTTer family
Our liquid formula of CJ's BUTTer® is loved as a spray application rash treatment that is exceptionally useful for sensitive to the touch rashes or quick application and can double as a wipes solution! This spray on moisturizer also works wonders as a bath oil, baby oil, massage oil that is safe for all ages, leave-in conditioner, hair detangler, curl definer, make-up remover, adhesive remover - no more struggle to remove sticky bandage goo and so much more!
Scent: Monkey Farts?! It's not what you think! This truly unique fragrance combines bananas, grapefruit, kiwi, bubble gum and strawberries with a touch of vanilla to create an incredibly fun, fruity and whimsical scent.
*Note* Special note to customers - packing may be different than normal due to supply demands
Package Description: New 4 oz. spray bottle fits easily in any compartment intended for a small baby bottle!
Uses: Moisturizing spray for skin or hair. Directions: Spray directly on skin or into palm of hand to work through hair. Warnings: For external use only. When using this product avoid contact with eyes. Contains: Nuts (Coconut Oil) and Soy (Tocopherols) *These statements have not been evaluated by the Food and Drug Administration. This product is not intended to treat, cure, diagnose or mitigate the symptoms of any disease.
Ingredients: Cocos Nucifera (Coconut) Oil, Olea Europaea Fruit (Olive) Oil, Ricinus Communis Seed (Castor) Oil, Tocopherol (Vitamin E)**, Parfume (Fragrance). **derived from soy
Product Reviews
Write Review
Multi use smells so good!!

Posted by Ashley on Jan 27th 2021

I absolutely love this product. I have used it for so many things. Diaper rash when I had babies in cloth, now that they are all out of diapers I use it for my sons TERRIBLE eczema. It's the only thing I've used that he doesn't cry about burning him. I've even used it on my hair when it's long and naturally curly!! Keeps the curls moisturized and my hair smells good all day!!

Best bottom spray!!

Posted by Unknown on Sep 16th 2020

I got this as a baby shower gift. We love this for our littles bottom if he ever gets a little red. I will keep buying this for him and any future children we may have. It's amazing!!

Love!

Posted by Unknown on Aug 9th 2019

I got this and the tube balm and love them both. The spritz is great for quick changes and I even sometimes use it instead of baby wipes (spray on and wipe off with dry washcloth). Great idea to have a spray product for those occasional rashes that are too bad to be rubbing a cream on!

Great

Posted by Veniece on Aug 8th 2017

This spray is perfect for when I don't want cream on my hands and I'm trying to do a quick diaper change. I've also used it in my baby's hair. I've been using cjs on my baby since he was born and no diaper rashes!

Smells so good!

Posted by Kelsey on Jun 2nd 2017

We have been using the Spritz since our son was born and he has never once had a diaper rash! Love the way this stuff feels and smells!

No diaperrash

Posted by Unknown on Dec 19th 2016

We use this for every diaper change, it is cloth diaper safe. And we think that this product has saved our now one year old from getting any diaperrashes,

My absolute FAVORITE

Posted by Brigid on Jul 3rd 2016

I came across CJ's while looking for a cloth diaper safe diaper cream. I've tried a few others, but this is my absolute favorite (along with the quickstick version). I have used it on my son as a whole-body moisturizer since his birth. When he was first born the doctors and nurses in the NICU would often comment on how nice his skin felt (he had a lot of sticky leads and the spray helped remove the adhesive painlessly AND kept his skin from drying out from medical tape). I also get compliments on how "delicious" he smells from pretty much everyone who holds him. The scent itself isn't just "banana"... it's light, sweet, and fruity. I catch banana and strawberry especially, but mostly it just smells sweet and yummy.
Also, the spray is not greasy or oily like I feared. I've used the EarthMamaAngelBaby oil (and a few other popular ones) and they have given me some grease spots on his pjs and shirts. I've never gotten one from the CJ's (spray or stick) and I know I apply it a little more generously than I need to.
Overall a fantastic product and my favorite baby shower gift item.

shea butter balm monkey farts

Posted by Rhenan Harvey on Mar 19th 2016

I absolutely love this product !! I work in a preschool and I'm with infants 6 weeks to 1 year old . I first came across your product when one of the mothers in my classroom had brought in to use on her child's skin . Not just the exposed areas but the diaper area as well . It softens the skin and the cent is amazing . I bought it to try on my dry , cracking skin from all the hand washing that I must do everyday all day after diapering , cleaning noses etc. My skin has never felt so good . It's no longer dry or itchy and I now use it on one of my sons for eczema and it's worked wonders !! Thank you all for this amazing product I will be buying more very soon ♡

Going Bananas Over This Spray!

Posted by Bradley on Feb 12th 2016

This spray is amazing and leaves my lil monkey smelling great! We have had so many comments about how wonderful our son smells when we use Monkey Farts! The spray is great with our cloth diapers, and keeps a great barrier between the baby skin and the diaper. The spray is such a good option as it allows for quick protection without getting creams everywhere! CJs is the way to go!
Find Similar Products by Category
Customers also viewed