CJ's BUTTer Spritz: Lavender & Tea Tree
CJ's BUTTer Spritz: Lavender & Tea Tree
Product Description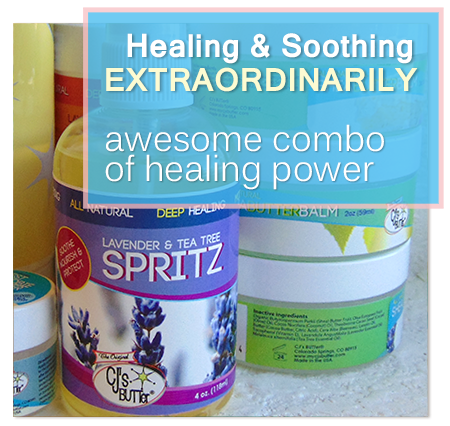 Please see our Amazon Prime listings to purchase if we are out of stock.
~CJ and the CJ's BUTTer family
Lavender & Tea Tree Spritz on Amazon
Our liquid formula of CJ's BUTTer® is loved as a spray application rash treatment that is exceptionally useful for sensitive to the touch rashes or quick application and can double as a wipes solution! This spray on moisturizer also works wonders as a bath oil, baby oil, massage oil that is safe for all ages, leave-in conditioner, hair detangler, curl definer, make-up remover, adhesive remover - no more struggle to remove sticky bandage goo and so much more!
Scent: This Spritz is scented only with essential oils, harnessing the power and uplift of Tea Tree paired with the comfort of Lavender!
*Note* Special note to customers - packing may be different than normal due to supply demands
Package Description: New 4 oz. spray bottle fits easily in any compartment intended for a small baby bottle!
Uses: Moisturizing spray for skin or hair. Directions: Spray directly on skin or into palm of hand to work through hair. Warnings: For external use only. When using this product avoid contact with eyes. Contains: Nuts (Coconut Oil) and Soy (Tocopherols) *These statements have not been evaluated by the Food and Drug Administration. This product is not intended to treat, cure, diagnose or mitigate the symptoms of any disease.
Ingredients: Cocos Nucifera (Coconut) Oil, Olea Europaea Fruit (Olive) Oil, Ricinus Communis Seed (Castor) Oil, Tocopherol (Vitamin E)**, Lavandula Angustifolia (Lavender Essential Oil), Melaleuca alternifolia (Tea Tree Essential Oil) **derived from soy
Product Reviews
Write Review
Does several things in one bottle!

Posted by Rebecca on Jun 28th 2021

This and a baby brush is great for tackling cradle cap. It also works great as a detangler for my toddler who has curly and unruly hair. Obviously makes a great diaper cream in the bag too because it won't melt or spill like a tub or tube can.

LOVE

Posted by Beth on Apr 15th 2020

This is perfect to lube up a wiggly kid and help settle them at the same time. I love this as an alternative option to the balm when I need to quickly moisturize!!

Love this product!

Posted by VanceVV on Nov 17th 2019

Ordered this product after someone recommended it as a hair detangler. We absolutely love it, leaves hair smooth and the tea tree/lavender scent had helped us keep lice away! Would recommend to anyone considering a purchase.

Great for the diaper bag!

Posted by Kay on Aug 9th 2019

This spritz is great for quick diaper changes on the go. The size is perfect for diaper bags. I was using this all the time as a moisturizer for my 2 month old's bum but found the butter to work better in preventing diaper rash. For outings with my daughter the spray is very convenient. I do recommended it but not for all the time use as a bum ointment.

Love it

Posted by SS on Oct 31st 2017

Love this scent and the quick absorbing

Love it!

Posted by Jackie on Aug 14th 2017

It's so quick because it doesn't require a lot of rubbing. I really was worried about the lavender aroma being overwhelming but it's actually perfect, unless you enjoy overwhelming lavender.

Best find ever!

Posted by Helen on Jan 2nd 2017

Our youngest daughter has Down Syndrome and had a yeast infection on her bottom from an antibiotic. I'm very anti, running to the doctors, but sometimes it is very necessary. This happened one other time and she had to have chemicals to treat this. I used this spray and it killed the infection. Best find ever!!!

Great for night routine

Posted by Brigid on Jul 3rd 2016

This is a great lightly moisturizing spray. I love to use it at night, after my son's bath. The scent is fairly mild. I smell much more of the lavender than the tea tree, which is what I prefer. The spray bottle is great because it comes out in a nice mist and I've never had a bottle clog. I spray it all over my son after his night bath and it makes his skin super soft but not too greasy. I've also used it to sooth the beginnings of a diaper rash and before naptime. And it works great as a diaper cream, ESPECIALLY on delicate, fidgety newborns!

As a note, I was worried the oil might stain his clothing but it hasn't, and I tend to be fairly heavy with the application (because I love the smell and my son really loves his night-time "massages"). I would warn others not to apply it too liberally before letting their little one crawl around. I've made that mistake before and my hardwood wasn't as clean as I thought because he ended up with little "muddy" knees from the oil picking up the dirt... but maybe I shouldn't have confessed that.
Find Similar Products by Category
Customers also viewed